Cleaning Tips
How to Clean and Disinfect a Cutting Board
When it comes to the kitchen, a quick wipe of your surfaces just won't cut it*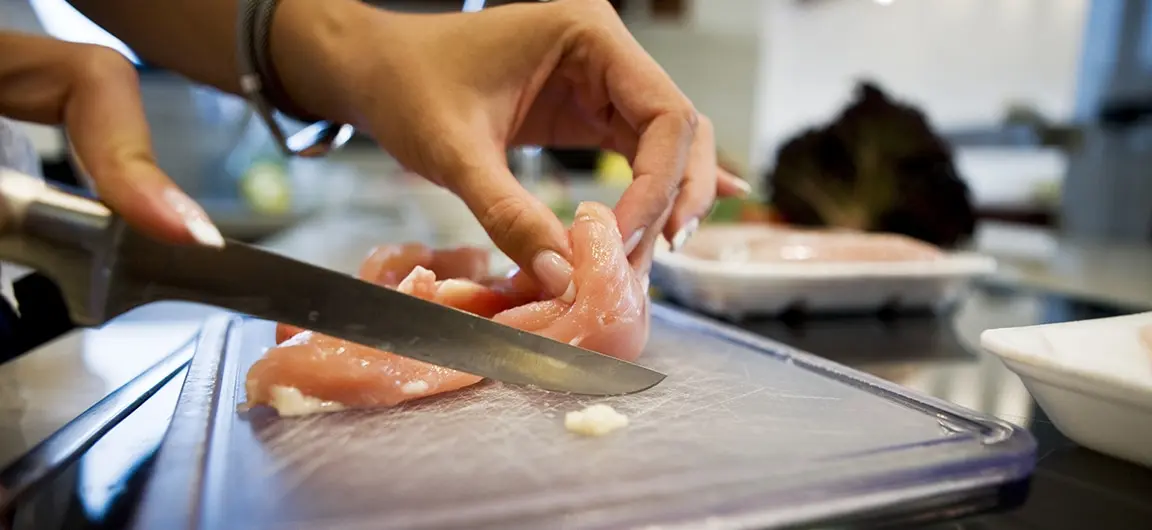 How to clean cutting boards
The cutting board is where all your food prep takes place, and it's a real breeding ground for bacteria such as salmonella and e-coli. 

The good news? It doesn't have to be. Here's how to clean food contact surfaces such as your chopping board properly, so that it can continue to help you in the kitchen rather than hold you back. 
Tips for cleaning your cutting boards
It's important to know how to clean your cutting board carefully. One of the biggest problems is that when they are not cleaned properly, they can cause cross contamination and make you sick. Here are some of our top tips that can help you to stop this from happening: 

Always use a clean cutting board for food preparation. 
Try to have a dedicated chopping board for both raw meat and fish as well as one that is specifically for those foods that are safe to eat whenever. 
Always air dry your cutting board once finished washing, rather than putting it straight back into storage.**
Discard cutting boards that become overly worn down over time as these grooves can harness bad bacteria that even the best cleaning regimes cannot eliminate.***
Thanks to plastic cutting boards' surfaces, they wipe down a lot easier than the likes of wood. Plastic isn't porous for starters, which means that you can choose to wash it by hand. To do this, we would recommend using Lysol® Hydrogen Peroxide Multi-Purpose Cleaner,  which delivers a powerful clean for fighting foodborne bacteria with 0% bleach. Alternatively, you can also use Lysol® Multi-Purpose Cleaner  Simply which also holds no harsh chemicals when cleaning food-contact surfaces. Simply follow the steps below: 

HOW TO CLEAN PLASTIC CUTTING BOARDS 
Turn the nozzle counterclockwise to preferred usage level. 


To clean cutting boards, apply to surface until thoroughly wet.
 
Wipe with a clean cloth or sponge. 


Always rinse your cutting board with water once complete. 
HOW TO DISINFECT PLASTIC CUTTING BOARDS 
When disinfecting kitchen cutting boards made of plastic, apply to the surface and leave for 10 minutes before wiping. Remember to always rinse your cutting board with water once complete. 
Please note: Please always use Lysol products as directed on the label. 
Now you know how to clean your plastic cutting boards, you can keep it safe from the unsanitary situations that can come from food prep. While you're cleaning your cutting board, why not take on your kitchen countertops and trash can too?