Lysol SMART™
The smart system to clean and disinfect your home while using 75% less plastic‡.

Click to learn more about each product.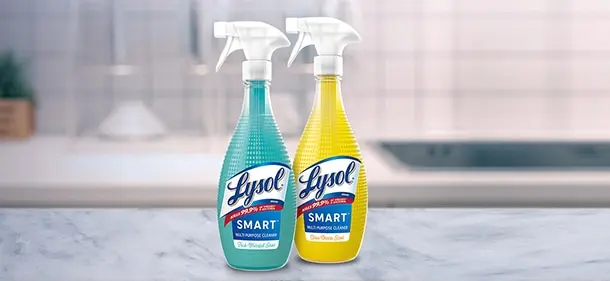 Clean surfaces with less plastic‡*
Lysol SMART™, when used as directed, is formulated to disinfect hard, non-porous surfaces, such as 
 
Floors
Walls
Metal and stainless steel
Glazed porcelain and ceramic tile
Plastic
Vanity tops
Shower stalls, bathtubs and cabinets
Smart Kits
The SMART Solution for a Cleaner Future
VIEW VIDEO TRANSCRIPT
New! Lysol Smart. Uses 75% less plastic. Use with three easy steps, refill the water, reload the cartridge and reuse the bottle. How to use. First, fill the empty bottle with water. Add water to the fill line. Then insert the cartridge. Finally, insert the sprayer through the cartridge and tighten till you hear a click to release the concentrate. Shake the bottle until the solution is well mixed. It's now ready to use, simple as that! Use on surfaces like kitchen countertops, fridge and microwave surfaces and handles. Kills 99.9% of viruses and bacteria. The specially designed cartridge is simple to use and easy to replace. The replaceable cartidges allow the Lysol Smart bottle to be reused 25 times. 75% of plastic saved. The smart solution for a cleaner future. The Lysol Smart refill system.
LEGAL DISCLAIMER:
 
*Use as directed
‡vs Lysol Lemon All Purpose Cleaner 32oz