Clean by Room
How To Clean Shower Doors
Learn how to clean shower doors and the best way to clean shower glass. Regular cleaning of shower doors and deep cleaning can keep shower glass shining. With most households utilising their shower every day, there is bound to be a build-up of matter on your glass shower doors. Are they starting to look cloudy and discolored?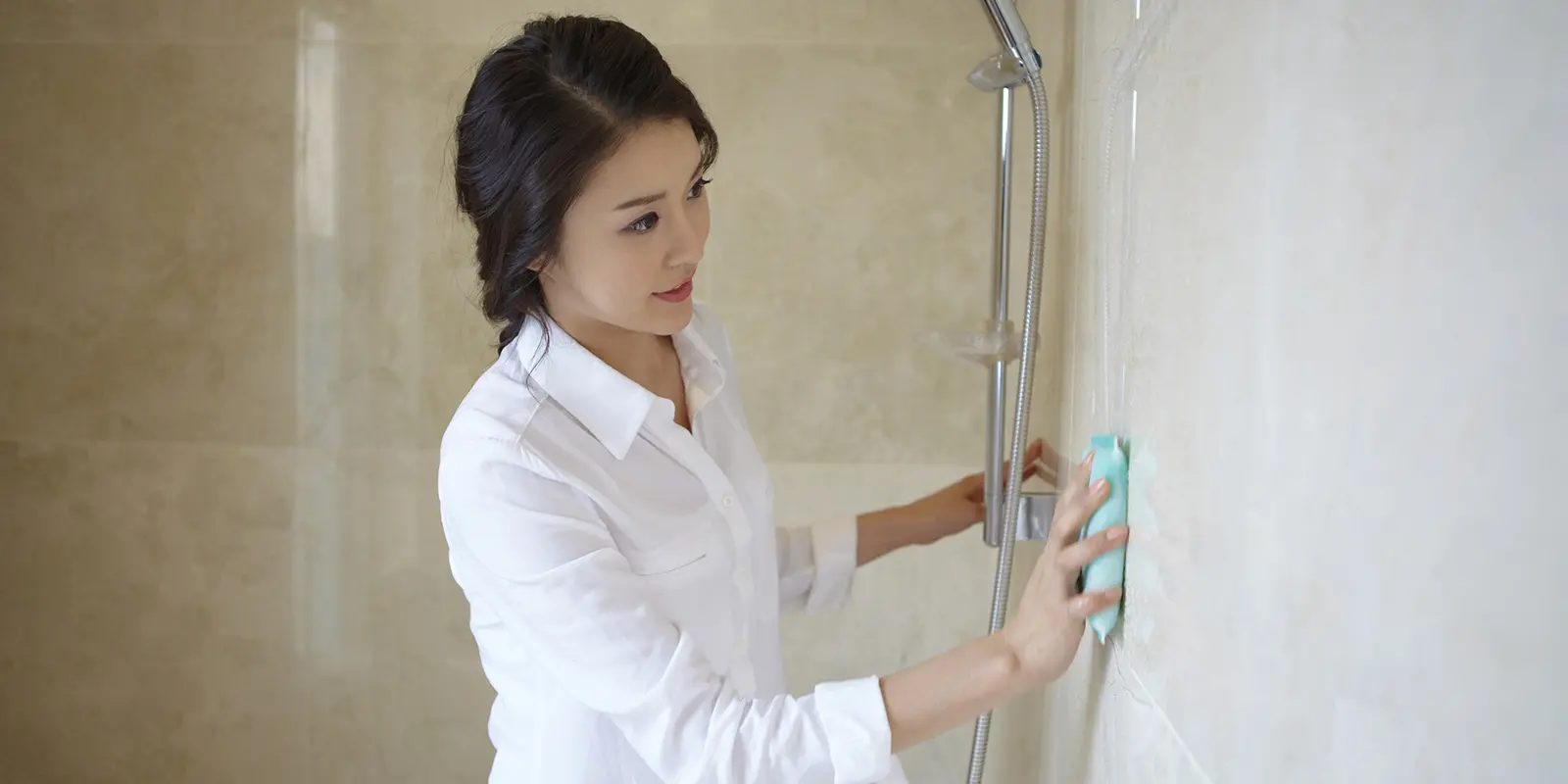 If your shower doors are cloudy,  hard water and soap stains among other shower products could be the culprit! Left long enough, these stains can start to corrode your shower doors and cause permanent and irreparable damage to your glass.
In this article, we'll show you some tips to help you stop this from happening, including the best way to clean glass shower doors and what to use to get them sparkling and shiny.
How often should you clean shower glass?
The moisture of a bathroom means that grime can cause build-up on your glass shower doors. You should therefore aim to do some simple maintenance every time you use the shower, as well as giving your shower glass a deeper clean every week or two.
What is the best way to clean shower glass?
For how to clean glass shower doors, you should make sure you wipe down your shower with an everyday cleaner and a cloth after each use.
When it comes to your weekly clean, you'll want to use something that not only cleans your glass shower doors, but sanitizes them, too. One of our best shower glass cleaners is Lysol® Power Bathroom Cleaner – which eliminates soap scum, limescale and other tough messes – as well as killing 99.9% of bathroom bacteria and viruses. Simply spray the surface until thoroughly wet and allow it to sit for around 15-20 seconds to remove soap scum from your shower doors , and then wipe clean. Repeat as many times as necessary.
If you are starting to see a black or greenish growth on your shower doors (particularly around the edges), this could be mold and mildew. If not treated, this fungus can cause illnesses within homes. The best way to clean glass shower doors for the control of this is by applying Lysol® Power Bathroom Cleaner to a pre-cleaned surface. Let it remain wet for three minutes before wiping away and repeat weekly where this growth appears.
The edges of your shower door are a prime target for soap scum and mold, so use an unused toothbrush for scrubbing the frame around your shower door every few weeks. This will make sure you get in all the nooks and crannies that you can't reach with a normal cloth!
Please note: Please always use Lysol products as directed on the label.
By knowing how to clean glass shower doors, you'll not only extend their lifespan but help to keep them squeaky clean, too. And always remember – by taking on the small scrub every time you use your shower, you can free up a whole load of time when it comes to those deep clean days!